Are you ready to take your education to new heights while paving the way for an international career? Look no further than Australia, a land of academic excellence and unparalleled career opportunities. In this article, we'll delve into the incredible benefits of studying in Australia and how it can set the stage for a successful and fulfilling professional journey.
Looking to pursue your study career? Well, Australia is one of the best-known countries where many international students look for the continuity of their education. When this debate comes into consideration why someone has chosen Australia over other countries which also offer opportunities for the youth and the international students. The answer is that it offers a diversity of nature along with the amalgamation of multicultural cities as well as incorporating different sports as a field of extracurricular activities for the new visitors. Also, among the best in the world to offer, Australia indulges the proper systematic approach to studies. Preferring Australia over the UK, Canada and USA simply means that due to its good inflation rate and good opportunities for youngsters for earning a good fortune for their upcoming future. Furthermore, the fascinating weather in Australia is very likeable to the people especially those residing in Asia, as it doesn't bother the international students with the extremes of the climatic changes as some of the people living in Canada or UK have experienced over decades.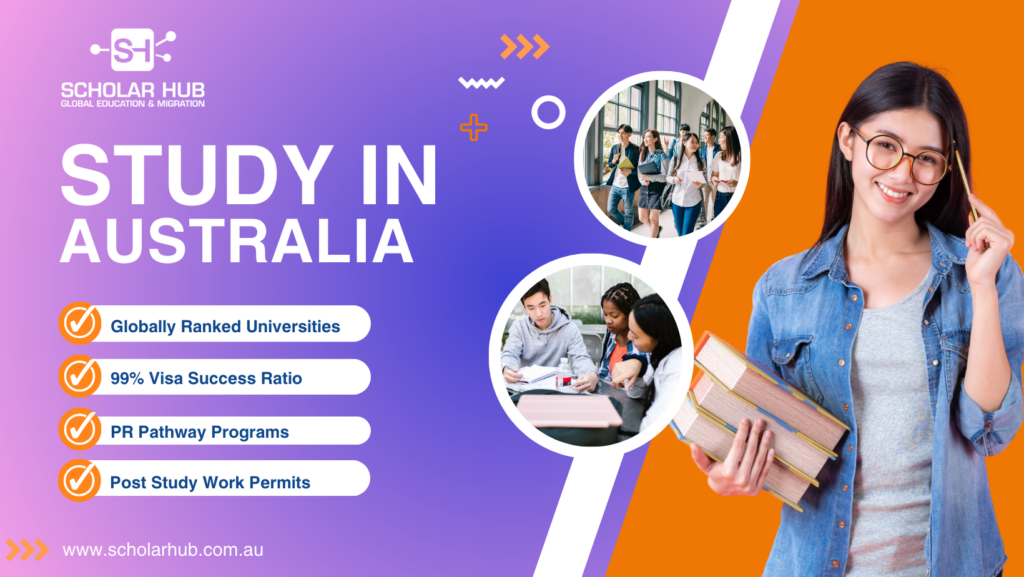 A Global Education Hub
Australia's reputation as a top-notch education destination is well-deserved. Its universities consistently rank among the best in the world, offering an extensive range of programs across various disciplines. Whether you're interested in engineering, arts, medicine, business, or technology, Australia has a reputable institution for you.
Why Choose Australia for Your Higher Education?
Quality of Education: Australian universities are renowned for their high academic standards, innovative teaching methods, and research opportunities. The practical approach to learning ensures you're equipped with not just theoretical knowledge, but real-world skills as well.
Multicultural Environment: Studying in Australia means immersing yourself in a diverse and inclusive environment. Interacting with students from all corners of the globe opens up new perspectives and helps you build a global network even before you graduate.
Career-Focused Programs: Many Australian universities collaborate closely with industry partners, allowing students to gain insights and hands-on experience in their chosen field. This industry integration enhances your employability and ensures you're ready to hit the ground running.
Is there any possibility for any individual to switch to any other institution if there are any liking or disliking towards it?
One can shift towards any other institution of their choice considering some of the conditions regarding the Department of Immigration and Border Protection. Moreover, for further information you can get the details regarding shifting to any other institution or even course if you're an international student and want to meet the outline provided.
Working during studies in Australia?
Well , one can for sure work while studying in Australia. The international students can work up to 48 hours per fortnight during study periods and they can also work to an unlimited extent of hours if they're on a break from their studies. Adding on to working and considering the masters and doctoral degrees , there are no restrictions even when it comes to research purpose study.
English Language Test Requirements for Australian Student Visa
Following are the listed tests accepted towards Australian Student Visa Application:
Test of English as a foreign Language (TOEFL)
International English Language Testing System (IELTS)
Cambridge English: Advanced (CAE)
Occupational English Test (OET)
Pearson Test of English (PTE)
https://immi.homeaffairs.gov.au/help-support/meeting-our-requirements/english-language
: Your Study Growth & Career Opportunities: Studying & Migrating To Australia!
Higher Education Sector: (Undergraduate and Postgraduate)
⦁ Higher education sector's admission vary university to university and region to region as per required course and last degree CGPA.
⦁ 15-30% Scholarships in Melbourne and Sydney.
⦁ IELTS Requirements (undergraduate in colleges & universities vary 6.0(5.5).
⦁ IELTS Requirements (postgraduate in college bs & universities vary 6.5(6.0) education social work and medical courses 7.0(6.5).
Graduate Diploma is a branch of postgraduate (Bachelors 2 years degree student can get admission in it with IELTS 6.0(5.5).
What are good study opportunities in Australia for International Students?
Australia, known for its globally recognised courses along with good career opportunities, has great institutions for students who wish to study here. Also , incorporating many cultural diversities with liveable costs and expenditures brings students' attention into more good opportunities to search for when needed. Moreover, a beautiful environment and ambiance for any individual is the cherry on top when it comes to residing anywhere in the world
Not only this, considering some factual details one can get an idea regarding the number of students and their wish to study in Australia; over 600,000 students globally choose Australia over many countries.
Identify your ideal career
The Pathway to Your Dream Career Starts Here
Choose the Right Program: Begin by selecting a program that aligns with your passions and career aspirations. Australia offers an array of courses that cater to various interests and industries.
Immerse in Practical Learning: Australian education emphasizes practical application of knowledge. Many courses include internships, co-op programs, and real-world projects, enhancing your skills and understanding of your chosen field.
Industry Connections: Universities in Australia have strong ties with industries, providing you with opportunities to network, attend seminars, and even secure internships or job placements through career fairs.
Permanent Residency Pathway: Australia offers various pathways for international students to transition from study to work to permanent residency. The Temporary Graduate visa (subclass 485) allows you to stay and work in Australia temporarily after completing your studies, gaining valuable work experience.
Success Stories from Down Under
Numerous success stories have emerged from students who have chosen to study in Australia. From groundbreaking research in science and technology to thriving careers in business and the arts, Australian education has paved the way for countless individuals to achieve their dreams.
Conclusively, Australia is a safe and harmonious country with an eco-friendly environment which captivates the international students towards it. I find myself fortunate enough to be a part of Australia as an international student migrating from Pakistan.